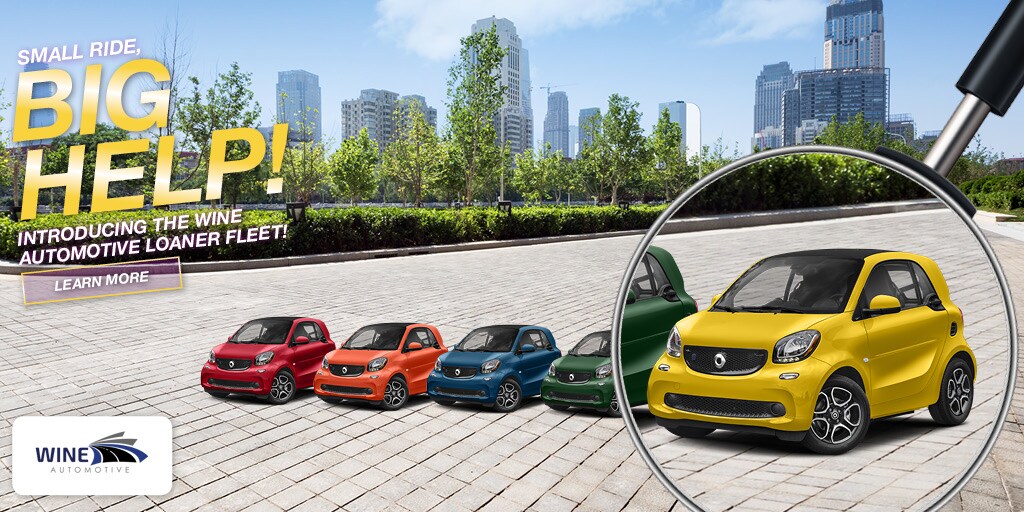 Introducing the Wine Automotive Loaner Car Program!
As an independent used car dealer, drivers likely wouldn't expect Wine Automotive to have a loaner fleet of cars available - yet, we do!  Wine Automotive is proud to announce our new Loaner Car Program! Have you ever been hesitant to get your vehicle serviced because it means you'll be without wheels for the duration of your repairs? Fear not! The Wine Automotive loaner car fleet exists just for such a situation. When drivers bring in their vehicles for maintenance, they can utilize one of our nine Smart Car loaner vehicles!
Wait, Smart Cars? Yes, Smart Cars!
All our loaner vehicles are Smart Cars! Have you seen a Smart Car and had the thought, "what an odd, interesting vehicle"? Well, now is your chance to try one out! When drivers choose Wine Automotive for servicing needs, you can look forward to retaining your mobility with the help of one of our Smart Cars.
Want to learn more about our Loaner Car Program? Visit Wine Automotive Today!
Visit or contact our dealership to get the specifics about our Loaner Car Program! Whether you're interested in getting behind the wheel of a Smart Car or you're looking forward to staying mobile while our service team repairs your vehicle, the Smart Car loaner fleet is ready! *Limitations and Restrictions Apply*
Independent Used Car Dealer
As an independent used car dealer, it might come as a surprise that we have a loaner fleet. Stop by for repairs and stay for the Smart Cars! This could be your chance to test drive a vehicle that's always piqued your interest! Wine Automotive is excited to offer drivers a chance to get behind the wheel of a Smart Car! Call our dealership to learn more about our loaner Smart Car fleet, and to schedule a service appointment!'*Limitations and Restrictions Apply*
Hours
Monday

9:00AM - 8:00PM

Tuesday

9:00AM - 8:00PM

Wednesday

9:00AM - 8:00PM

Thursday

9:00AM - 8:00PM

Friday

9:00AM - 8:00PM

Saturday

9:00AM - 7:00PM

Sunday

Closed